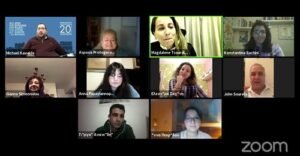 Within the frame of the "Be My Voice" transnational project, supported by EU and the Anna Lindh Foundation network, Fotoessa had the privilege to welcome "The House of Europe in Rhodes" in a web presentation of the "Living Libraries", an acknowledged tool for supporting freedom of speech and challenging prejudice and discrimination, creating a safe space for expression.
The "Living Libraries" place volunteer "readers" viewers in front of human "books", i.e. people who vividly recount their unique experiences. The "Living Libraries" include organizing events where individuals, who would not otherwise express themselves, can speak openly about their personal stories and experiences through a voluntary open interpersonal dialogue, within the framework of a safe environment. This process contributes significantly to the deconstruction of prejudices, to the acceptance of diversity and interculturality of the community, and encourages smooth social inclusion.
Michalis Kavuklis and Magdalini Tsourdiou, from "The House of Europe in Rhodes",  both certified trainers in the "Living Libraries", presented to "Be My Voice" participants and volunteers, the methodology of this tool and shared valuable personal experiences from "books" and "readers".
The House of Europe in Rhodes is a non-profit NGO founded with the purpose of spreading the European ideals, supporting human rights and civil society and promote communication, inclusion and dialogue among peoples of Europe.
You can watch the entire presentation on Youtube: