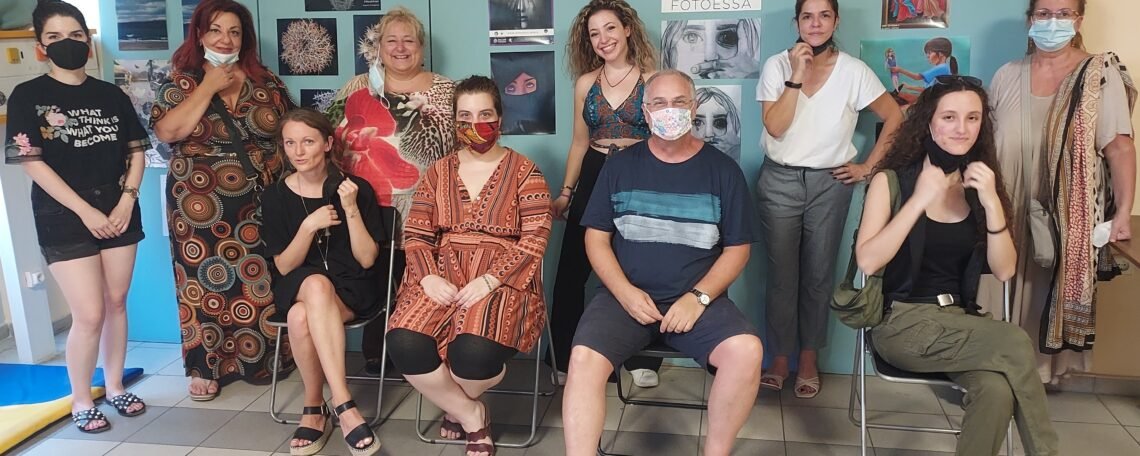 Fotoessa proudly launched the final Greek live workshop and collective art exhibition in the frame of the Anna Lindh Foundation's transnational solidarity programme "Be My Voice" #BeMyVoice – www.bemyvoice.world for supporting freedom of speech and free expression. The event took place in Welcommon Hostel's premises in Athens, on the 20th, July '21. Seven anonymous stories, coming from the heart of fellow men and women across the EuroMed region, were transformed into amazing works of art. Participating artists came together to present their creations, to share their experience and feelings. During the workshop they exchanged views regarding the "Be My Voice" movement and the inspiration they drew from the authentic, deeply moving anonymous stories. Fotoessa really feels honoured to have hosted such an amazing group of artists, covering an impressive variety of artworks (the largest among participating countries), such as: painting, sketch, mosaic, byzantine iconography, collage, photography, video, installation and music composition. This event:
Ηighlighted the anonymous stories that were a source of creative inspiration and inspired corresponding emotions, thoughts and fruitful reflections in the viewers – listeners

Encouraged artists to "talk" through their work and about their work

It gave the opportunity for a fruitful discussion on issues of vital importance raised by the stories such as: the violation of human rights, problems of vulnerable groups, war, terrorism, refugees and migration, child and female abuse, social exclusion and marginalization due to diversity, loneliness of the elderly, mental health, the influence of social media and publicity, personal empowerment and emancipation, etc.

It gave networking opportunities to the attendees
You can see the artworks, along with the volunteering artists' interviews, in Fotoessa's Youtube channel: https://www.youtube.com/channel/UC5zwyEWCuz2vFcGb3MGXhXQ).
Fotoessa would like to thank the following participating artists: Lena Spinou, Eleonora Sahini, Nina Dimoula, Kyriaki Panoutsou, Elina Kioupaki, Κalliopi Kalitzidou, Tijana Mladenovic and Ioulitta Soureli. We also want to thank Nikos Chrysogelos for the warm hospitality in Welcommon Hostel, an innovative hostel for sustainable tourism, social entrepreneurship, social inclusion and job integration, as well as an open space for arts and intercultural dialogue.
This programme is supported by the Anna Lindh Foundation and the EU.