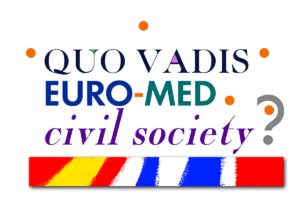 A Transnational Research on the present and the future of Civil Society in the Euro-Med Area
Fotoessa PC participates in the Anna Lindh Foundation-funded project called "Quo Vadis Euro-Med Civil Society" which aims to examine the situation of Civil Society in the EuroMed region, the problems, the new conditions and prospects, in order to draw conclusions and proposals for all involved.
The conjunction of the 25th anniversary of the Barcelona Process and the new challenges arising from the pandemic have created a momentum for looking into new opportunities to grow the civil society support base and articulate new demands. 'Quo Vadis Euro-Med Civil Society' project aims to formulate the conditions and recommendations that will increase the effectiveness of civil society and improve cooperation and dialogue in the Euro-Med region.
As a continuation of the survey on the impact of COVID-19 on EuroMed Civil Society Organisations, carried out by the Anna Lindh Foundation to its members in April 2020, the IEMed is holding a consultation to the Euro-Mediterranean civil society. The main task is to collectively and inclusively identify and analyze the emerging new environment, its challenges, obstacles and opportunities for civil society.
The project is led by the National Foundation for Civil Society Development (Croatia) in collaboration with the European Institute of the Mediterranean – IEMed (Spain), the House of Europe in Rhodes (Greece), the Center for International and European Studies (Turkey), and Fotoessa P.C. -Center for Education, Research, Action (Greece).